South West Essex Choir (SWEC for short!) is a large, friendly and non-auditioned choir with a membership of over 100 people mainly from Redbridge, Waltham Forest and South Essex.
If you enjoy singing – even if you've not been in a choir for a while – why not come and sing with us? We're a friendly bunch with singers ranging from the complete beginners to very experienced. Everyone is very welcome! Visit the join us page to find out more.
Our next concert, Glories of British Choral Music, is on Saturday 28 March 2020 at Chingford Parish Church. Tickets can be purchased here very shortly.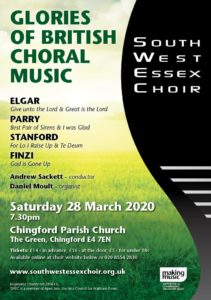 We look forward to welcoming you soon whether as audience member or singer!