During the current covid pandemic, SWEC rehearsals are taking place online on Tuesdays between 6-6.45pm.  
We're always on the lookout for new members, particularly in the male sections. If you enjoy singing, why not join one of our online rehearsals?  You are welcome to join us at any time.
We practise in a friendly and supportive atmosphere and aim to develop individual musicianship, as well as present public performances to the highest achievable standards.
If you wish to become a member of SWEC there is no audition but you must be able to sing and we do ask that you commit to regular rehearsals and participate in performances.
I felt compelled to express my gratitude for your article in the local gazette that inspired me to join SWEC… rehearsals culminated in a truly joyful experience." (New member 2016)
Rehearsal terms for the Autumn term of the 2020-21 season are: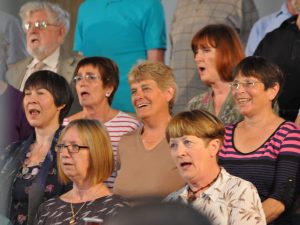 Tuesday 8th September – 1st December 2020
Please contact our membership secretary for more information about joining one of our online rehearsals.
Mary McElarney on 01992 812606 or email: m.mcelarney@outlook.com