South West Essex Choir (SWEC for short) is a large, friendly and non-auditioned choir with a membership of over 100 people mainly from Redbridge, Waltham Forest and South Essex.
Commissioned by the London Borough of Waltham Forest, soon to be London's very first Borough of Culture, we recently performed War Requiem by Benjamin Britten in a commemoration of Armistice Day to a sell-out audience at Walthamstow Assembly Hall.
"Watching the rank upon rank of singers and instrumentalists taking their places in the Assembly Hall on Saturday evening one had the impression that some titanic event was about to take place and from the moment in which the orchestra chilled us with those desolate opening chords and sinking motifs we were transported into a world of conflict and bitter memory. Bugle calls and the thunder or patter of guns: savage brass sounds and huge percussive explosions punctuated the singing of the wonderfully responsive chorus. Three conductors, working in remarkable unity, directed this stupendous performance and tossing their voices almost miraculously about the huge space, the three soloists: Cheryl Enever (Soprano), Andrew Mackenzie-Wicks (tenor) and Quentin Hayes (Baritone) created moments of pure theatre in this gripping and deeply moving performance"
Excerpt from a review of the concert by Dr Kenneth Pickering, honorary Professor of drama and performance, University of Kent . Read the full review here in East London and West Essex Guardian newspaper here.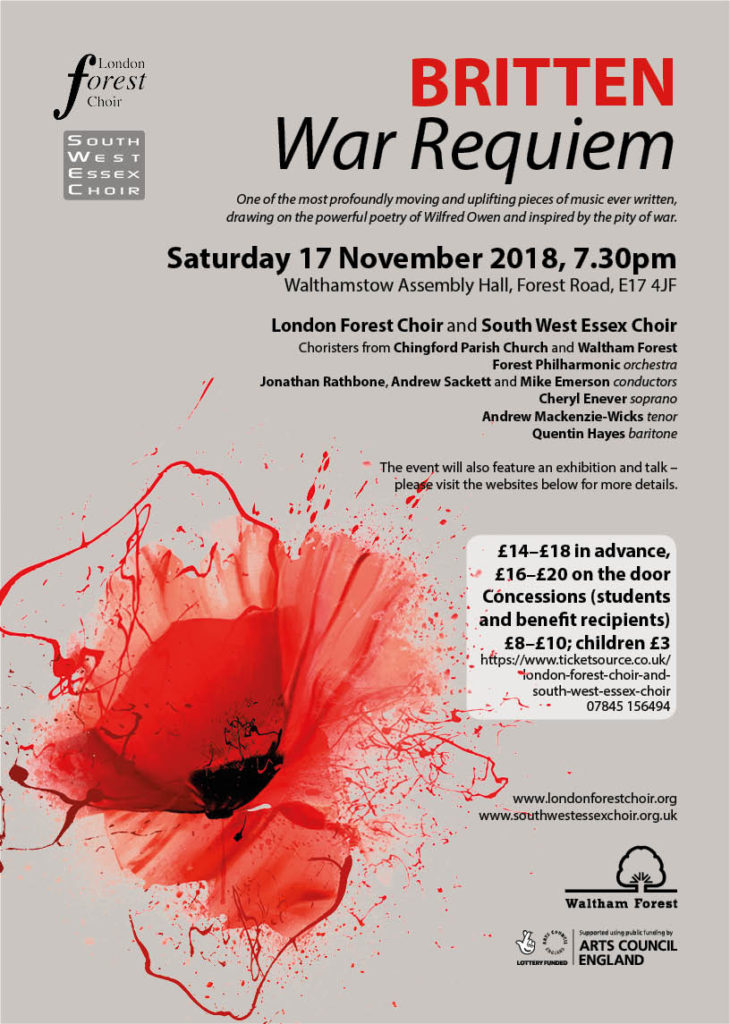 If you enjoy singing – even if you've not been in a choir for a while – why not come and sing with us? We're a friendly bunch with singers ranging from the complete beginners to very experienced. Everyone is very welcome!
Our next open rehearsal for new members is on Tuesday 8 January 2019 at 7.45pm at Loughton Methodist Church. 
Visit the join us page to find out more.