2017-18 Programme
Tickets for all our concerts may be purchased here or by calling the box office on 0208 554 2830.
All our concerts this year will take place at 7.30pm at Chingford Parish Church (St Peter & Paul), The Green Chingford, E4 7EN.
Saturday 30th June 2018 – The Armed Man
The Armed Man by Karl Jenkins has the enviable status of being one of Classic FM's favourites. As we near the anniversary of the Armistice for the First World War, its themes will take on a special resonance.
We shall also perform Haydn's Little Organ Mass
Tickets are available here.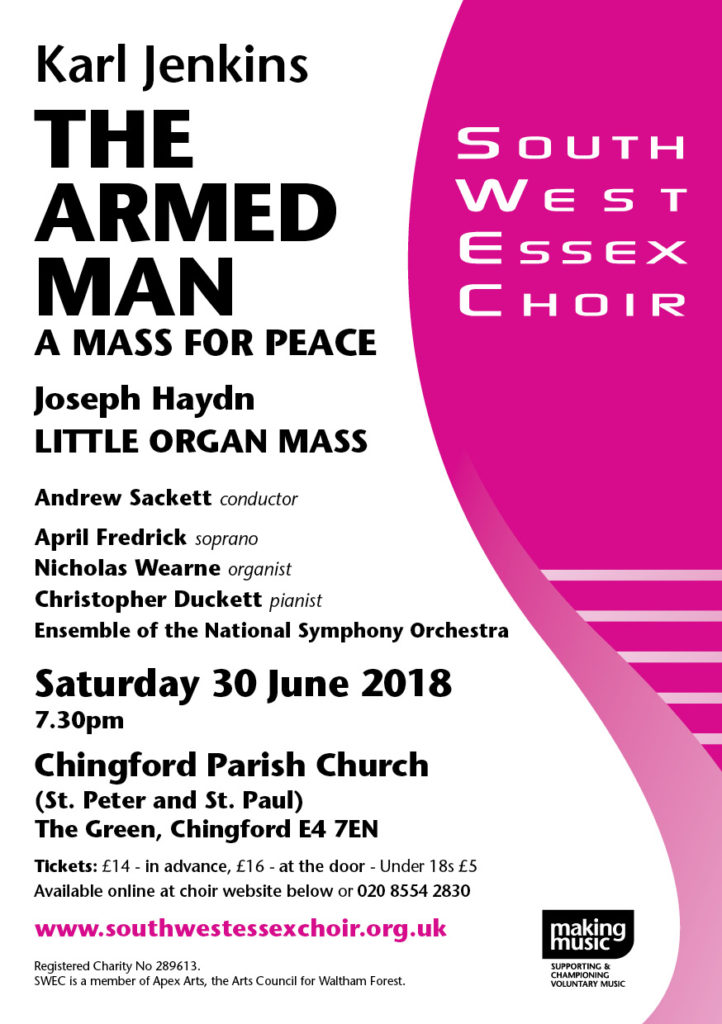 2018-19 Programme
Saturday 17th November 2018 – War Requiem, Benjamin Britten
With the commemoration of Armistice Day (11 November) still in our thoughts, SWEC joins forces with the London Forest Choir and the Forest Philharmonic for a special performance of one of the most profoundly moving and uplifting scores in the history of music-making, drawing on the powerful poetry of Wilfred Owen and inspired by the pity of war.
This concert will take place at 7.30pm at Walthamstow Assembly Hall, Forest Road, Walthamstow. Tickets will be available to purchase shortly.