2018-19 Programme
Saturday 6 April 2019 – Petite Messe Solonnelle,  Rossini
Rossini wrote on his score – Have I just written sacred music, or rather, sacrilegious music? Although known for his operatic work, this piece has stood the test of time as a wonderful example of a unique set of operatic skills applied to the spiritual business of composing a mass.
7.30pm at St Gabriel's Church, Aldersbrook, Wanstead. E12 5HH.
Tickets are on sale here.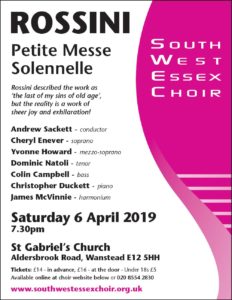 Saturday 6 July 2019 – The Creation, Haydn
A work of joy and drama, celebrating the wonder of creation, with a highly evocative orchestral score and choral writing at its most festive and exuberant!
7.30pm at Chingford Parish Church, The Green, Chingford, E4 7EN