2018-19 Programme
Saturday 17th November 2018 – War Requiem, Benjamin Britten
With the commemoration of Armistice Day (11 November) still in our thoughts, SWEC joins forces with the London Forest Choir and the Forest Philharmonic for a special performance of one of the most profoundly moving and uplifting scores in the history of music-making, drawing on the powerful poetry of Wilfred Owen and inspired by the pity of war.
This concert will take place at 7.30pm at Walthamstow Assembly Hall, Forest Road, Walthamstow. There will be no interval at this concert.
Tickets are available to purchase here or call the box office on tel 07845 156494. Book early to avoid disappointment.
Our commemoration of Armistice Day includes an evening of talks, free and open to all, on Wednesday 14th November at 7pm on The Perspectives of War: World War 1 to 2018. Those attending the talks will also have access to an exhibition. To find out more and book visit here.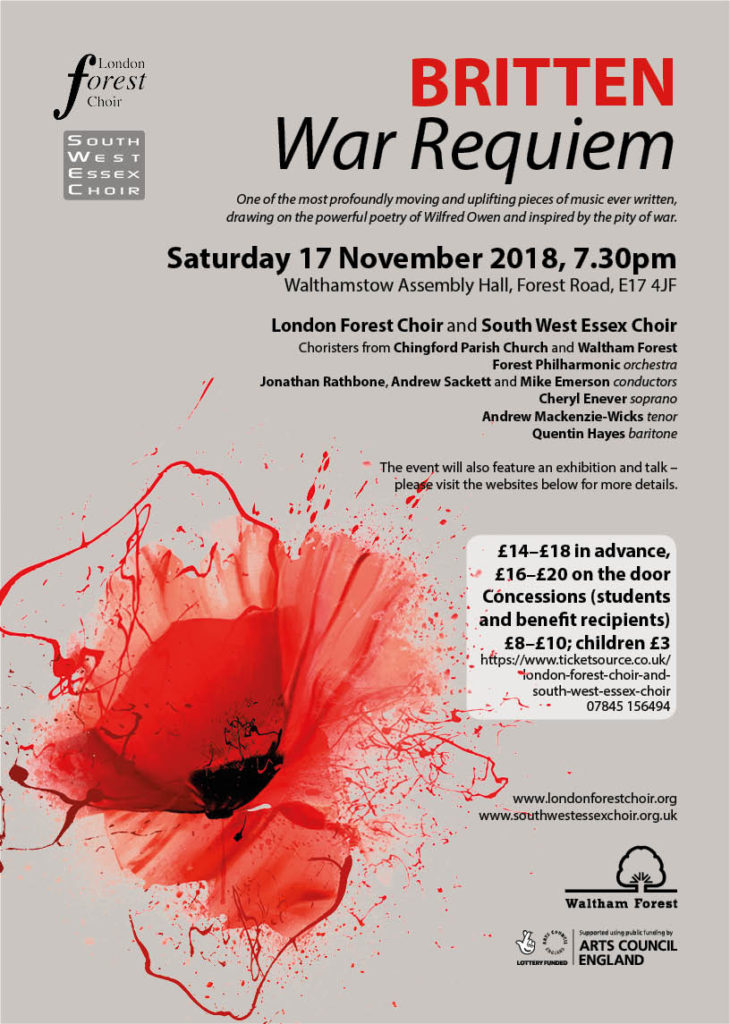 Saturday 6 April 2019 – Petite Messe Solonnelle,  Rossini
Rossini wrote on his score – Have I just written sacred music, or rather, sacrilegious music? Although known for his operatic work, this piece has stood the test of time as a wonderful example of a unique set of operatic skills applied to the spiritual business of composing a mass.
7.30pm at St Gabriel's Church, Aldersbrook, Wanstead. E12 5HH.
Saturday 6 July 2019 – The Creation, Haydn
A work of joy and drama, celebrating the wonder of creation, with a highly evocative orchestral score and choral writing at its most festive and exuberant!
7.30pm at Chingford Parish Church, The Green, Chingford, E4 7EN