Saturday 4 December 2021
Schubert Mass in G
Handel Messiah excerpts
Christmas carols
Saturday 7 December 2019
Finzi In Terra Pax
Vaughan Williams Fantasia on a Christmas Carol
L'Estrange Wassail!
Saturday 6 July 2019
Haydn The Creation
Saturday 6 April 2019
Rossini Petite Messe Solonelle
Saturday 17 November 2018
Benjamin Britten War Requiem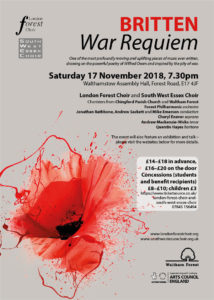 Commissioned in a commemoration of the 100th anniversary of Armistice Day by the London Borough of Waltham Forest, London's Borough of Culture in 2019 and performed to a sell out audience.
"Bugle calls and the thunder or patter of guns: savage brass sounds and huge percussive explosions punctuated the singing of the wonderfully responsive chorus. Three conductors, working in remarkable unity, directed this stupendous performance and….created moments of pure theatre in this gripping and deeply moving performance"
Excerpt from a review of the concert by Dr Kenneth Pickering, honorary Professor of drama and performance, University of Kent. Read the full review here in East London and West Essex Guardian newspaper here.
Saturday 30 June 2018
Joseph Haydn Little Organ Mass
Karl Jenkins The Armed Man
Saturday 24 March 2018
Gabriel Fauré Requiem & Cantique de Jean Racine
Antonio Vivaldi Gloria
Saturday 10 December 2017
Various A Night at the Opera
Saturday 1 July 2017
Ralph Vaughan Williams Sea Symphony
Saturday 1 April 2017
Carl Orff Carmina Burana
James Sherlock A Few Ways to Say Thank You
Saturday 10 December 2016
John Rutter Where Icicles Hang
Jonathan Dove Passing of the Year
Saturday 2 July 2016
Edward Elgar Dream of Gerontius
Saturday 5 March 2016
Will Todd Mass in Blue
Alexander L'Estrange Zimbe!
Saturday 28 November 2015
Handel Messiah
Saturday 4 July 2015
Verdi Requiem
Saturday 21 March 2015
Bach Mass in B Minor
Saturday 6 December 2014
Elgar Great is the Lord
Massenet Pie Jesu
Vaughan Williams Five Mystical Songs
Durufle Requiem
Saturday 5 July 2014
Mozart Requiem
Saturday 5 April 2014
Brahms Requiem
Brahms Song of Destiny
Brahms Hungarian Dances
Dvorak Slavonic Dances
Saturday 14 December 2013
Family Christmas Concert
Saturday 26 October 2013
Rutter Gloria
Parry I was Glad
Walton Coronation Te Deum
Saturday 29 June 2013
Elgar The Music Makers
Poulenc Gloria
Saturday 16 March 2013
JS Bach St John Passion