Saturday 2 December 2023
Britten Ceremony of Carols
Carols and festive music

Saturday 1 July 2023
Beethoven Calm Sea and Prosperous Voyage
Beethoven Choral Fantasy
Beethoven Mass in C
Saturday 25 March 2023
Chilcott St John Passion
Vaughan Williams Five Mystical Songs
Saturday 3 December 2022
Mozart Solemn Vespers
Haydn St Nicholas Mass
Saturday 2 July 2022
Ellington Sacred Concert
Perrin Brazil Songs of Nature
Saturday 24 March 2022
Rutter Gloria
Puccini Messa di Gloria
Saturday 4 December 2022
Schubert Mass in G
Elgar Ave Maria, O Salutaris Hostias
Grieg Ave Maris Stella
Franck Panis Angelicus
Saturday 7 December 2019
Finzi In Terra Pax
Vaughan Williams Fantasia on a Christmas Carol
L'Estrange Wassail!
Saturday 6 July 2019
Haydn The Creation
Saturday 6 April 2019
Rossini Petite Messe Solonelle
Saturday 17 November 2018
Benjamin Britten War Requiem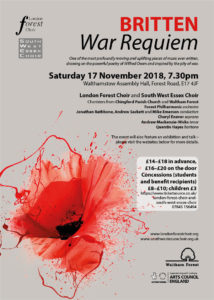 Commissioned in a commemoration of the 100th anniversary of Armistice Day by the London Borough of Waltham Forest, London's Borough of Culture in 2019 and performed to a sell out audience.
"Bugle calls and the thunder or patter of guns: savage brass sounds and huge percussive explosions punctuated the singing of the wonderfully responsive chorus. Three conductors, working in remarkable unity, directed this stupendous performance and….created moments of pure theatre in this gripping and deeply moving performance"
Excerpt from a review of the concert by Dr Kenneth Pickering, honorary Professor of drama and performance, University of Kent. Read the full review here in East London and West Essex Guardian newspaper here.
Saturday 30 June 2018
Joseph Haydn Little Organ Mass
Karl Jenkins The Armed Man